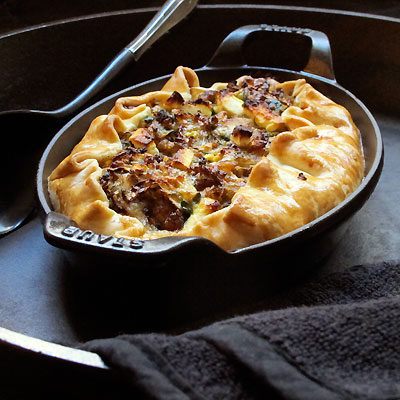 This savory pie made with cabbage and sweet sausage is extra flavorful with dill and feta cheese.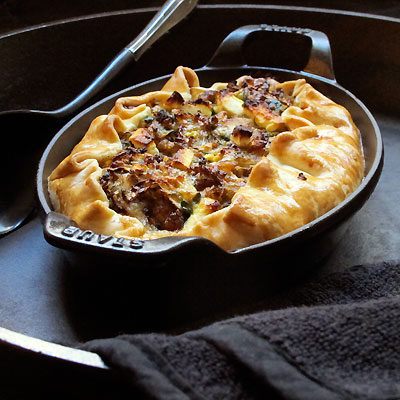 Ingredients
2½ cup

all purpose flour, plus more for rolling surface

8 ounce

(2 sticks) unsalted butter, chilled and cut into pieces

.75 teaspoon

kosher salt, divided plus more to taste

¼ cup

ice water

1 pound

sweet sausages

1

cabbage, shredded slaw style

2 tablespoon

olive oil

1

large onion, halved and sliced into slivers

2 clove

garlic, peeled and minced

1 pinch

freshly cracked black pepper

4 ounce

feta cheese, crumbled

¼ cup

dill, chopped

¼ cup

flat leaf parsley, leaves only, chopped

1

large egg yolk, lightly beaten with 1 tablespoon water, for egg wash
---
Directions
Make the crust: Pulse 2 ½ cups flour and ¼ teaspoon salt in a food processor until combined. Add butter, and process until mixture resembles coarse meal, about 10 seconds. With machine running, add ice water in a slow, steady stream until dough just comes together (no longer than 30 seconds). Divide dough in half, shape each into a disc, and wrap in plastic. Refrigerate dough for at least 1 hour (or up to 2 days), or freeze for up to 1 month.
Remove the sausages from their casings. Discard casings and crumble the meat. Add the crumbled meat to a large skillet set over medium heat. Cook completely, stirring often. Drain off excess fat and set aside.
Bring a large pot of generously salted water to a boil. Meanwhile fill a large bowl with ice water. Add the cabbage to the boiling water and blanch for 1 minute. Transfer to the ice water, allow to cool for a couple of minutes, then drain, and spin dry.
Heat 2 tablespoons of the olive oil in a large, heavy skillet set over medium heat. Add the onion and cook, stirring often, until tender, about 5 minutes. Add ½ teaspoon salt, stir together and stir in the garlic. Cook, stirring, until fragrant, about 30 seconds. Add the reserved cooked meat, stir to combine, then stir in the blanched cabbage. Cook, stirring often, until the mixture is very tender and the cabbage is beginning to color, about 10 minutes. Add salt and pepper to taste. Allow to cool somewhat. Stir in the feta, dill and parsley, and set aside.
Pre-heat the oven to 375 degrees F. Roll one of the chilled dough discs out to about a 12-inch round (depending on pan). Save the other disc for another use. Line a 10 to 12 by 2 inch deep oblong baking dish with the rolled out dough, allowing it to evenly drape over both long sides. Fill with the cabbage mixture. Fold the draped edges in over the filling. It need not meet in the center. Brush with egg wash, drizzling any extra over the cabbage mixture.
Bake 40 to 50 minutes in the pre-heated oven, until the crust is crisp and dark golden brown. Serve hot, warm, or at room temperature.