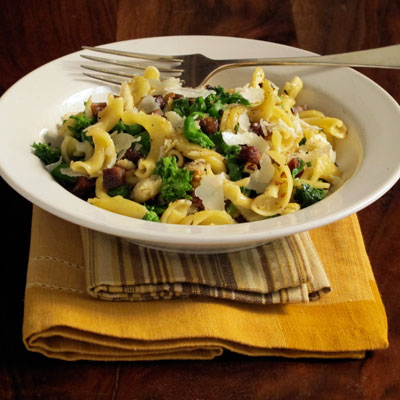 Broccoli rabe is a classic ingredient in Italian cuisine. Cooking softens its bitter nature and make it a great partner to guanciale in this pasta dish. Strozzapreti Pasta with Broccoli Rabe & Guanciale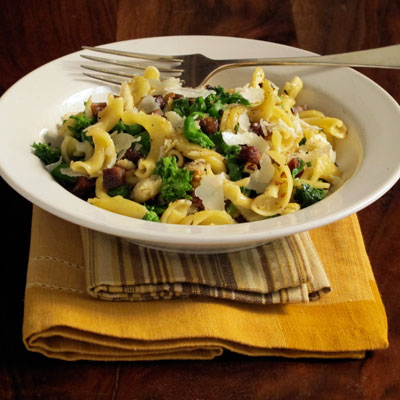 Ingredients
1 bunch

broccoli rabe, trimmed

salt

3 ounce

guanciale or unsmoked bacon

6 tablespoon

olive oil

1 cup

coarse plain breadcrumbs

1 pound

dried strozzapreti, gemelli or orecchiette pasta

1 cup

parmesan, shaved or grated
---
Directions
Cook broccoli rabe in a large pot of salted boiling water until tender, about 5 minutes. Reserving water, transfer broccoli rabe to a colander, then rinse under cold water to stop cooking. Gently squeeze out excess water, then roughly chop.
In a large skillet, combine guanciale and 4 tablespoons oil; heat over medium heat and cook, stirring occasionally, until guanciale begins to crisp, about 4 minutes. Add broccoli rabe and continue cooking, stirring occasionally, for 3 minutes more. Transfer mixture to a large serving bowl (big enough to toss the pasta). Return skillet to medium heat; add remaining 2 tablespoons oil and breadcrumbs. Cook, stirring constantly, until breadcrumbs are golden, about 5 minutes; remove from heat.
Return pot of salted water to a boil. Add pasta and cook until al dente. Reserving ½ cup of the pasta cooking liquid, drain pasta and add to bowl with broccoli rabe. Add breadcrumb mixture and ¼ cup of the pasta cooking liquid. Toss to combine. Moisten with extra pasta cooking liquid, if desired. Serve immediately, sprinkled with cheese.