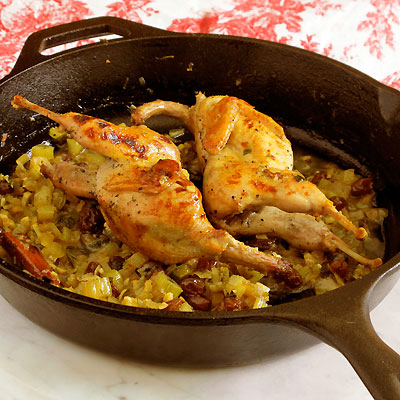 There is a globe's worth of influence in this tender braised quail dish. But it retain a very subtle balance of flavors, which seem classically French. Quail Escabeche.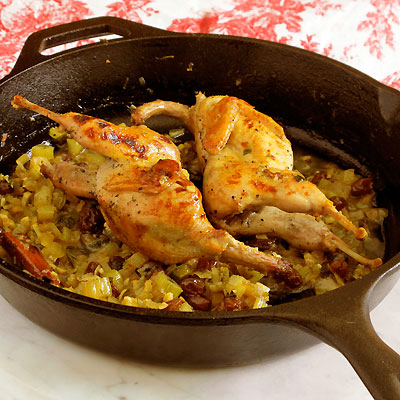 Ingredients
4

whole quail

2 tablespoon

extra virgin olive oil

2

small fennel bulbs (1 lb total) stalks trimmed and bulbs minced

3

medium shallots, minced

1

clove garlic, peeled and minced

1

lwmongrass stalk, 1 or 2 outer layers removed & lower 4 inches minced

½ cup

raisins

1

(2‑inch) piece mexican cinnamon stick

1½ cup

dry sherry

¼ cup

sherry vinegar

1 tablespoon

flat leafed parsley, minced

salt and pepper to taste

additional olive oil to taste for drizzling
---
Directions
Place the rack in the middle of the oven. Preheat to 350 degrees F.
Wash and thoroughly dry the quail. Season with salt and pepper to taste. Heat oil in an ovenproof 12-inch skillet with a lid, until it shimmers. Sear quail on all sides until golden brown, abou 5 minutes total. Transfer to a plate.
Add fennel, shallots, garlic, 1 teaspoon salt, and ½ teaspoon black pepper to skillet and saute until fennel is well softened, 5 to 7 minutes. Stir in lemongrass, raisins, cinnamon stick, sherry and sherry vinegar. Bring to a boil, then cover the skillet and move it to the oven to braise the vegetables about 20 minutes.
Pull the skillet from the oven, remove the lid and add a bit of water if necessary. Not too much, just enough to keep the vegetables fluid and easy to move around the skillet. Nestle the quail on top. Cover and return to the oven to continue braising another 30 minutes until the thigh pulls easily from the joints. Cool completely, uncovered. Serve at room temperature, drizzled with olive oil.