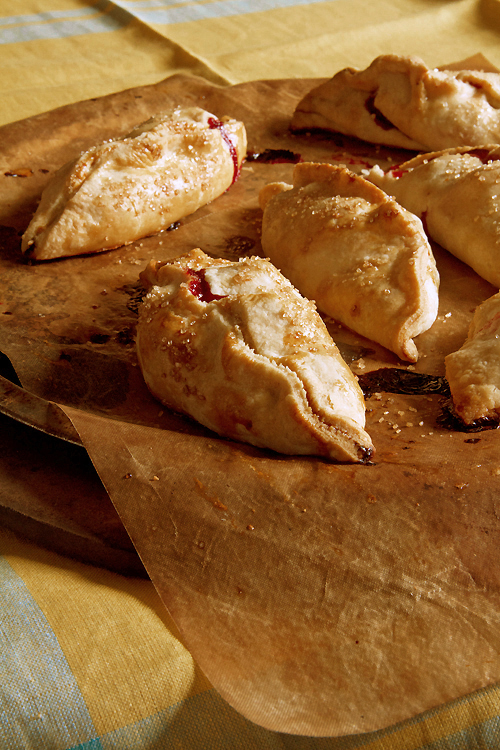 Fruit-filled hand pies are fun. You can adapt this recipe to almost any fruit. Plums make especially good choices as their high pectin level makes an easy jam filling.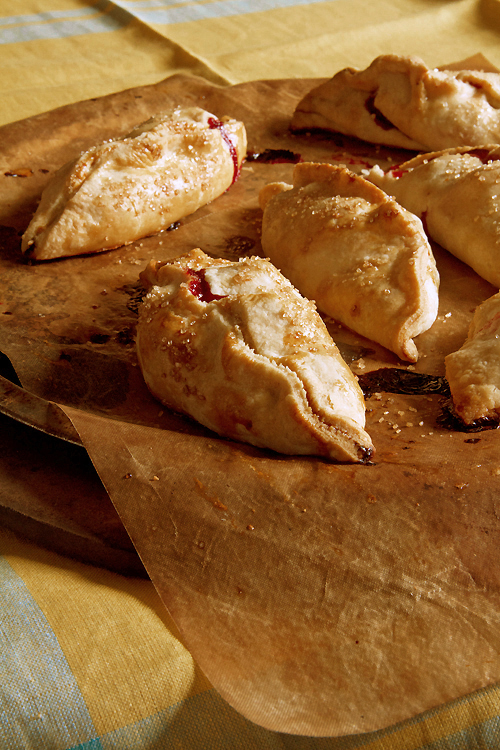 Ingredients
Pie Pastry

(enough to to make 1 double-crust 10-Inch pie)

flour

(for rolling, as needed)

2 cup

pitted and sliced plums

2 tablespoon

granulated sugar

2 tablespoon

fresh orange juice

1 teaspoon

orange zest

(finely grated)

1 pinch

kosher salt

1 tablespoon

corn starch

1

egg

(beaten with 1 teaspoon water, as egg wash)

2 tablespoon

turbinado sugar

(for sprinkling)
---
Directions
Prepare Pie Pastry recipe of your choice. Divide dough in half, shape into 2 discs about 5‑inches in diameter and 3/4‑inch thick. Wrap in plastic. Refrigerate at least 1 hour (or up to 2 days), or freeze up to 1 month.
On a lightly floured surface use a lightly floured rolling pin to roll out one disc of chilled dough to a 12 or 13-inch round, a generous 1/8‑inch thick. Cut out four 6‑inch rounds, using a round cutter or appropriately-sized saucer and knife. Gather scraps and re-roll as needed so you can get 4 rounds. Repeat with other disc of dough. Lay the 8 rounds out evenly spaced on 2 parchment-lined baking sheets. Cover with plastic wrap and chill at least 20 minutes and up to 8 hours.
Make the filling: In a large bowl, mix together sliced plums, granulated sugar, orange juice and zest, salt, and cornstarch; mix until well combined. Set aside about 20 minutes..
Place the oven racks in the top and center positions. Preheat oven to 400 degrees F.
Spoon a generous ¼ cup plum filling onto each round mounding in the center, leaving a 1‑inch border all around. Don't overfill or they will be difficult to seal. Brush edges lightly with egg wash. Carefully bring both sides up and towards center so they meet at top forming a football shape. Pinch edges together to seal. Then decoratively crimp or scallop edges as you like. Leave pasty sitting with decorative edge facing up. Brush with more egg wash. Sprinkle with turbinado sugar. Make 2 small slashes in crust with the point of a sharp knife to allow steam to escape. Repeat with remaining dough rounds. Refrigerate on baking sheets until chilled, about 20 minutes.
Bake in heated oven for 10 minutes, then lower temperature to 350 degrees F. Bake 15 to 20 more minutes until deeply golden, switching trays between racks halfway through the process. Serve hot or at room temperature.