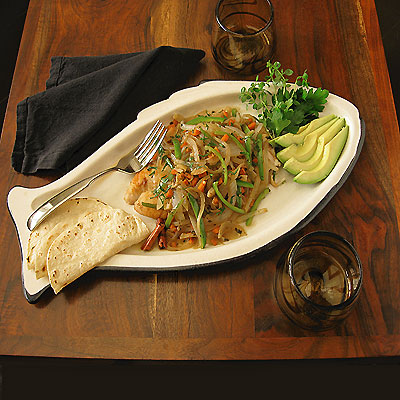 This is a seared red snapper fillet covered in escabeche. It is lighter than some versions and contains decidedly Latin flavors that are fresh and spicy.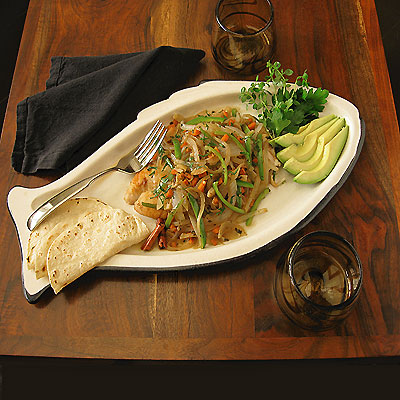 Ingredients
1

boneless and skinless red snapper fillet, about 3/4 lb.

¼ cup

olive oil, plus 1 tablespoon

1

onion, sliced into ¼‑inch slivers

1

carrot, cut into ¼‑inch dice

3 clove

garlic, peeled and roughly chopped

2

whole cloves

1/8 teaspoon

freshly ground pepper

1 cup

chicken stock

2 tablespoon

apple-cider vinegar

2

bay leaves, whole

3

sprigs fresh oregano, roughly chopped, plus whole sprigs for garnish

¼ teaspoon

dried marjoram

1

one-inch piece cinnamon stick, preferably mexican canela

coarse salt

2

large fresh or pickled jalapeno chiles, stemmed, seeded, and thinly sliced lengthwise

parsley as garnish

corn tortillas

1

ripe avocado, peeled and sliced
---
Directions
In a large, well-seasoned cast-iron or nonstick skillet, heat ¼ cup oil over medium-high heat. Pat fish dry. Cook the fish, undisturbed until brown and no longer sticking to the pan, 3 to 4 minutes. Turn, and cook until second side is brown and fish flakes, 2 to 3 minutes more. Remove to a plate, and set aside. Discard oil from pan.
Reduce heat to medium, and add remaining tablespoon oil. When hot, add onions, carrots, and garlic. Cook, stirring frequently, until onions are translucent and carrots are almost soft, about 5 minutes. Meanwhile, combine cloves and black pepper in a mortar and pestle or in a spice grinder, and process until coarsely ground. Add to vegetables, along with stock, vinegar, bay leaves, oregano, marjoram and cinnamon. Cover, and simmer over medium-low heat for 15 minutes. Season with salt, and stir in jalapeno strips. Cover until ready to proceed.
Arrange fish on a serving platter, and spoon escabeche over top. As it comes to room temperature the fish and vegetables will absorb much of the liquid. It may be served now, but it is even better if it is covered and refrigerated overnight. Bring it back to room temperature before serving. Garnish with sprigs of oregano and parsley and serve with warm corn tortillas and avocado slices.