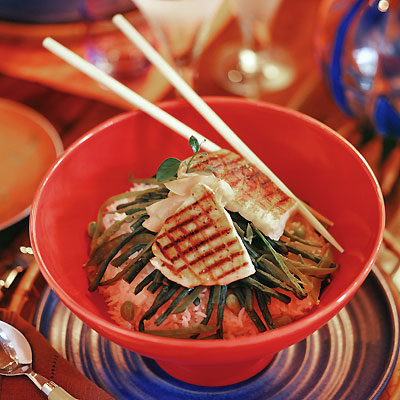 This recipe is simple and flavorful. I used a sustainably harvested California White Sea Bass, but any firm white fleshed fish will work. Please avoid Chilean Sea Bass or other types of seafood that are being overfished, or sourced in an environmentally deplorable manner.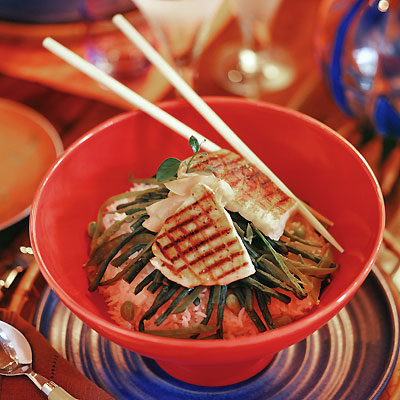 Ingredients
¼ cup

mirin

½ cup

plus 2 tablespoons red miso paste

4

california white sea bass filets, about 4 oz. each

2 tablespoon

soy sauce

peanut oil for pans, as needed

water as needed

¼

daikon radish, peeled & grated

½ teaspoon

asian hot sauce

1

large english cucumber, thinly sliced

2

green onions and part of their greens, thinly sliced

½ cup

snow peas,thinly sliced length-wise

½ cup

long beans (or alternately green beans)

½ cup

edamame beans, steamed and removed from the pod

sweet pea shoots, as garnish

½ cup

rice vinegar

2 tablespoon

sugar

pickled ginger, as garnish

4 cup

cooked jasmine rice, kept warm
---
Directions
Prepare the miso glaze: Add the miso to a small bowl, add water to the bowl– 1 or 2 tablespoons at a time until a saucy, but still thick consistency is achieved.
Place the sea bass and the ½ cup miso glaze in a zip-lock bag. Coat the fish evenly with the glaze, seal the bag and refrigerate for at least 4 hours or up to 24 hours.
Just before cooking the fish, in a bowl, stir together the cucumber, radish, green onion, ¼ cup rice vinegar and 1 tablespoon sugar. Set aside.
Heat a lightly oiled grill pan over medium-high heat until nearly smoking. Remove the fish from the marinade, letting excess drip off. Place the fish in the grill pan, and cook about 2 minutes until nice grill marks are achieved, turn the fish 90 degrees and cook on the same side another 2 to 3 minutes. Flip the fish over and repeat the procedure, cooking until the fish is just cooked through, but do not overcook.
Meanwhile, in a small bowl, whisk together the remaining 2 tablespoons miso glaze, mirin, remaining ¼ cup vinegar, remaining tablespoon sugar, soy sauce and hot sauce. Set aside.
Heat a wok over high heat. Add about 1 tablespoon oil, coating the pan. Add snow peas, long beans and edamame and cook tossing often until al dente, about 3 minutes. Add the reserved miso, mirin, vinegar mixture. Toss well.
Serve the beans on top of the rice and the fish on top of everything. Garnish with pickled ginger and sweet pea shoots if you like. Serve the picked cucumber and radish on the side.