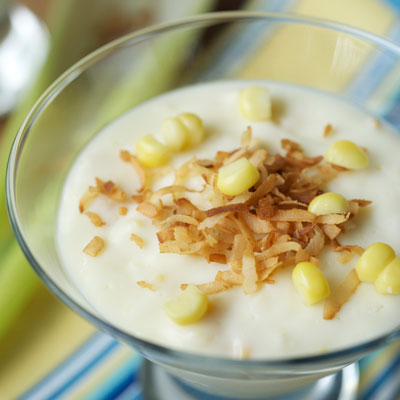 Sweet corn and coconut define this creamy Filipino dessert custard.
Print This Recipe
Total time
Yield
8
Source Jean Pope of Lemons and Anchovies
Published
serves 8
Photo copyright Lemons and Anchovies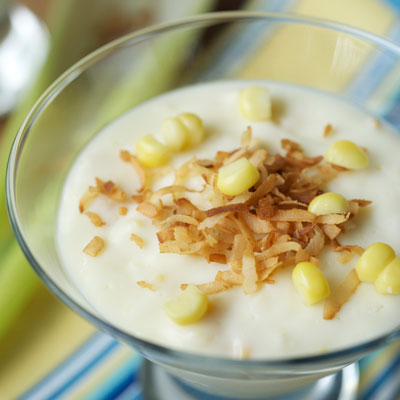 Ingredients
1

(13½-oz) can coconut milk

1

(14.34-oz) can sweet corn, cream style (feel free to use same amount cooked fresh corn kernels)

1

can condensed milk

1 pint

(16 oz) half and half (or my way, 50% h‑n-h and 50% regular milk)

½ cup

sugar (the larger amount yields a medium-sweet dessert. use the smaller amount if you prefer)

.75 cup

corn starch

optional: ½ cup of shredded sweetened coconut, toasted lightly over medium heat

optional: add'l cooked fresh corn kernels for garnish
---
Directions
1. In a large saucepan, heat together the coconut milk, canned corn and sugar over medium heat, about 10 minutes.
2. Add the condensed milk and continue over medium heat for about five minutes.
3. In a bowl, stir together the half and half and corn starch until smooth.
4. Add the corn starch/milk mixture to the saucepan and cook for another 8–12 minutes. The mixture should thicken slowly towards the end of the cooking time.
5. Take off the heat and pour into a glass baking dish or into separate glasses. Leave to cool to room temperature before chilling for a few hours (or overnight) in the refrigerator.
6. Garnish with toasted shredded coconut and/or fresh corn before serving.