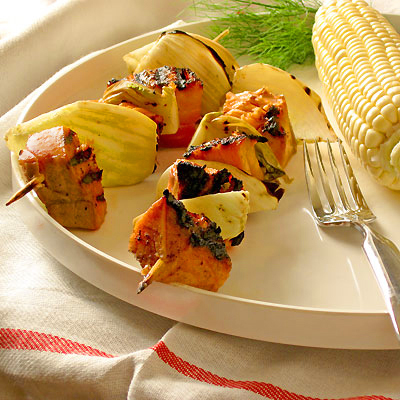 Smoky brined salmon, charred on the outside, but succulent on the inside is served with crunchy grilled fennel bulb and a pinch of wild fennel pollen.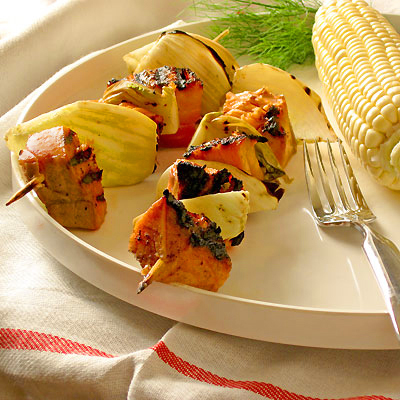 Ingredients
¼ cup

brown sugar

3 tablespoon

kosher salt

1 quart

cool water

½ cup

anise liqueur

1½ pound

salmon, skin removed and cut into 1 ½" chunks

2

small fennel bulbs, trimmed, quartered & cored

1 tablespoon

wild fennel pollen or ground fennel seed

salt and pepper to taste
---
Directions
To brine the salmon: Combine, sugar, salt, water,in a non-reactive bowl. Add salmon, cover and refrigerate 4 to 8 hours. Remove from brine and pat dry.
Separate the outside layers of the fennel bulb quarters from the inside softer heart. This should leave you with several shaped pieces all about 1 ½" in size. The variety of shapes is good and will give you a variety of textures.
Thread the fennel and the fish onto water soaked bamboo skewers. Alternating them. Make sure to include some of the flat outer pieces of fennel as well as the soft interior pieces on each skewer.
Sprinkle each skewer with wild fennel pollen and plenty of salt and pepper.
Prepare a charcoal grill until the coals are white but are still glowing red and quite hot. Spread the coals into a single layer and cook the kabobs, for 3 or 4 minutes per side. You goal is for the salmon to be charred a bit on the outside, but remain medium-rare and succulent on the inside. The fennel will also get charred but should remain a bit crunchy.
Serve warm.