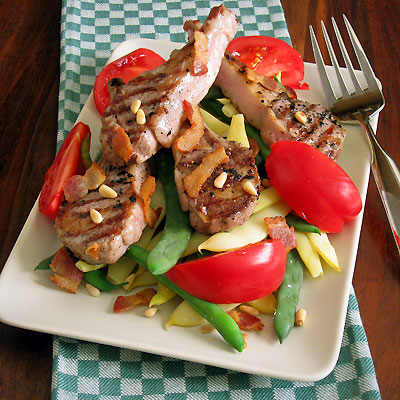 These grilled lamb chops are served with heirloom tomatoes and beans and topped with a warm bacon vinaigrette.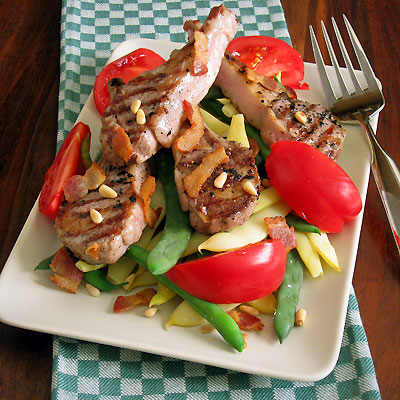 Ingredients
8

lamb chops

1 tablespoon

olive oil

salt and pepper, as needed

1 pound

assorted heriloom beans, such as wax, or green bean styles

2 slice

thick cut bacon, cut crosswise into ½" slices

6

heirloom tomatoes, cut into wedges

2 tablespoon

extra virgin olive oil

3 tablespoon

red wine vinegar

1 teaspoon

sugar
---
Directions
Make the chops: Heat the grill to medium heat. Sprinkle chops with salt and the lightly crushed peppercorns, and grill until barely cooked through, 3 to 4 minutes per side. Serve warm or at room temperature with the green beans and tomatoes.
Preheat the oven to 375 degrees F. Spread the pine nuts in a shallow pan and toast in the oven about 10 minutes, until golden.
In a large pan of salted water, cook the beans, stirring once, until just tender. About 4 minutes. Drain immediately and run under cool water to stop the cooking. Drain and dry the beans arranging them on a serving platter. Place the tomato wedges around the edges, and top this arrangement with the lamb chops.
Meanwhile in a small skillet, cook the bacon over low heat until crisp and golden, about 10 minutes. Pour off all but about 2 tablespoons of the fat and add the oil to the skillet. Stir in the vinegar, sugar, and a big pinch of salt and pepper, Stir to incorporate well. Pour the mixture on top of the lamb and beans. Garnish with pine nuts and serve while the Vinaigrette is still warm.