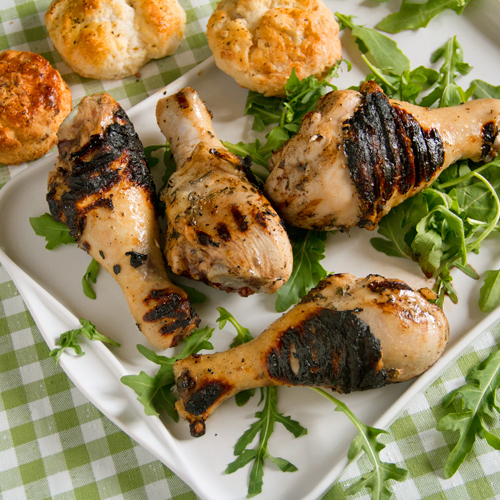 There's a reason southern cooks have been soaking chicken in buttermilk before it goes into the frying pan. It imparts a slight tang while tenderizing the meat. The same trick works wonders on the grill, as in these grilled buttermilk chicken legs.
You may choose any cut of chicken you like for this recipe. If you choose chicken breasts you should quarter them and cook them a bit less to avoid overcooking.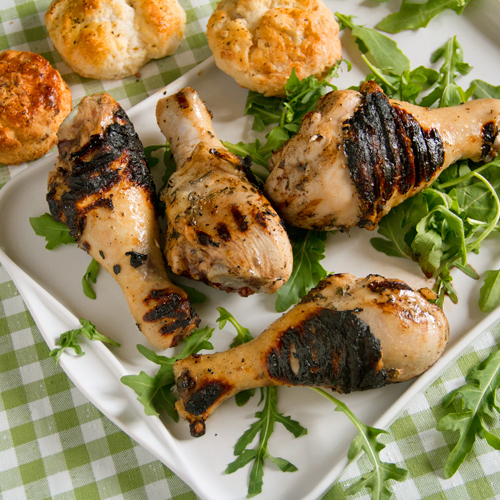 Ingredients
1 quart

buttermilk

6 clove

garlic

peeled and smashed

¼ cup

light-brown sugar

(packed)

½ ounce

thyme sprigs

(about 1 bunch)

2 tablespoon

red Tabasco sauce

(or similar high acid hot sauce)

2 tablespoon

kosher salt

plus more for seasoning

1 teaspoon

black pepper

2 pound

chicken legs

(about 6 legs)
---
Directions
In large bowl, combine buttermilk, garlic, brown sugar, thyme, Tabasco, salt and pepper; add chicken, turning to coat. Cover and refrigerate at least 4 hours and up to 24 hours; turning chicken occasionally.
Remove chicken from refrigerator 30 minutes before grilling. Use a colander to strain away the marinade; discard the thyme and garlic and season with salt. Place on greased grill over medium-high heat. Close the lid and grill, turning occasionally, until an insta-read thermometer inserted into thickest part reads 165 degrees F; about 30 to 40 minutes. You may need to move the legs to cooler part of the grill to keep the skin from charring too much. Be diligent.