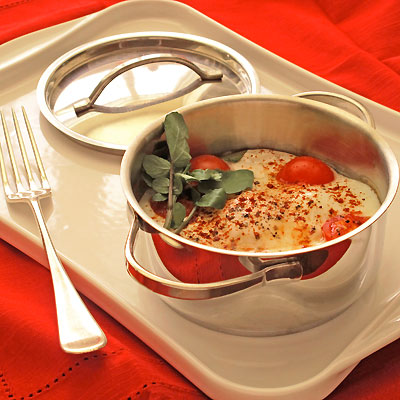 Eggs baked in yogurt make a great vegetarian brunch. Dress them up as you like. I used spinach, tomatoes and watercress.
The fats in the yogurt will clump in baking giving a 'curds and whey' texture.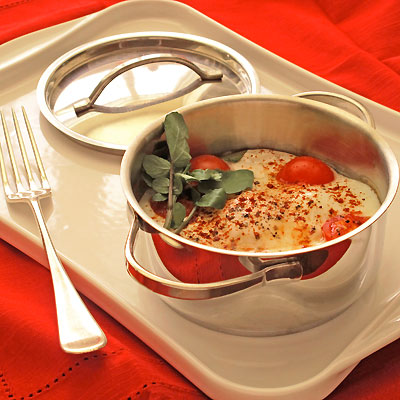 Ingredients
2 cup

plain greek yogurt

2 tablespoon

scallions, thinly sliced

1 clove

garlic, peeled & minced

salt and pepper, as needed

1 cup

baby spinach leaves, lightly packed

4

large eggs

12

cherry tomatoes, halved

1 bunch

watercress

paprika, to taste
---
Directions
Preheat oven to 350 degrees. Stir together yogurt, scallions, garlic, a pinch of salt, and a few grinds of pepper in a bowl. Divide the baby spinach evenly between between each of four (4 to 5‑inch) covered, ovenproof ramekins (foil makes a fine lid too). Spoon ½ cup yogurt on top of the spinach, smoothing to cover completely. Make a slight indent in the center of the yogurt and carefully break an egg onto each one, keeping the yolk intact. Season with more salt and pepper. Lay six cherry tomato halves around each of the eggs, avoiding the yolk. Cover the ramekins with lids or foil and place them on a rimmed baking sheet. Bake until yogurt is just firm, and the eggs whites are set, about 20 to 25 minutes, depending on size and material of your ramekins.
To serve, top each with some watercress, and a sprinkle paprika.