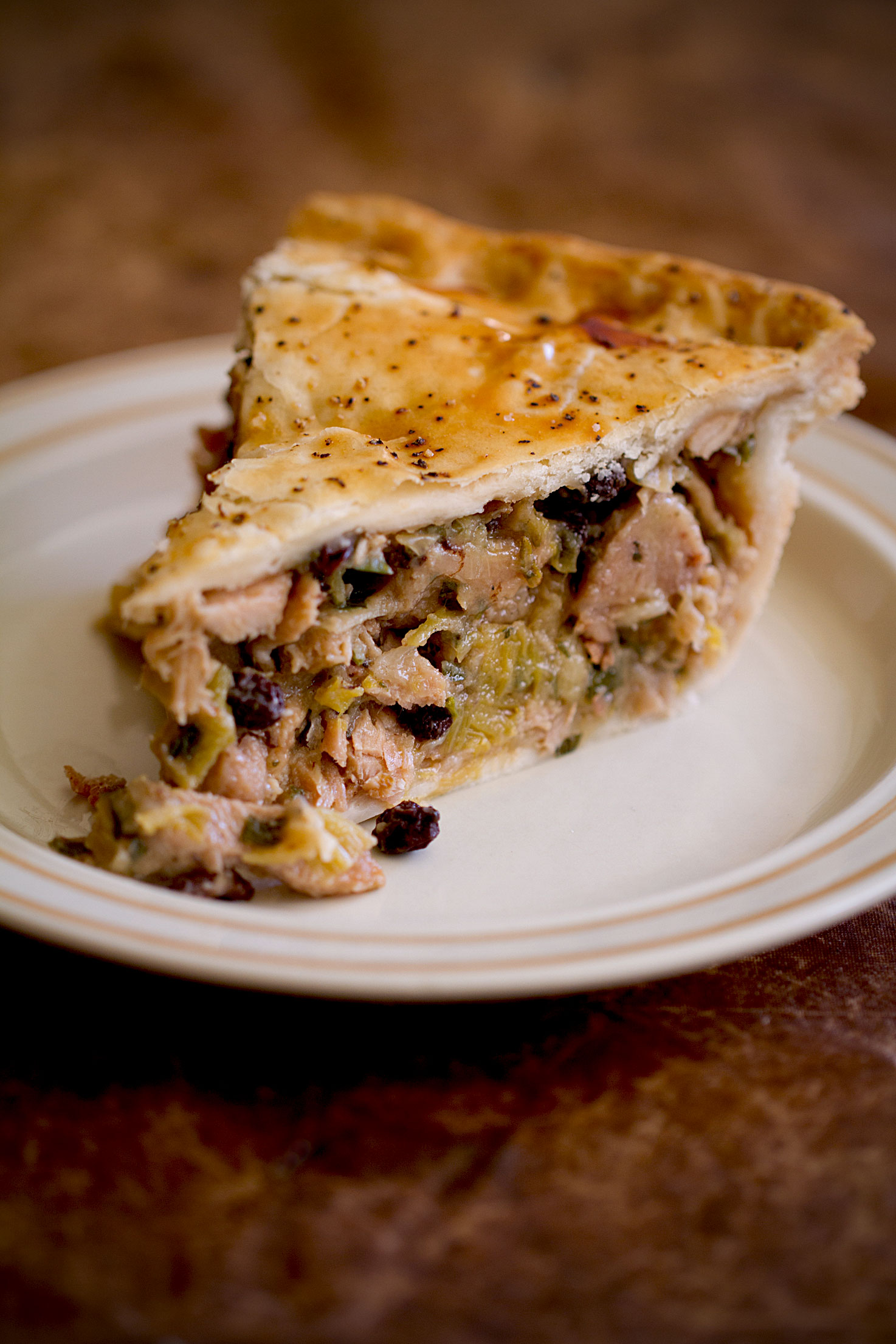 I made this Chicken and Leek Pie last night because I like to make pie. I added sweet currants and balsamic to this savory Chicken and Leek pie because I thought it would provide some balance. I didn't give my pie much more thought than that. As I said I like to make pie and I generally don't need too much motivation. Still, I gave the filling for this pie much more thought than I did to the crust. When making a savory pie I almost always use the all-butter crust I call the "Basic Pie Pastry" in my book Savory Pies. Especially when I don't want to think too much.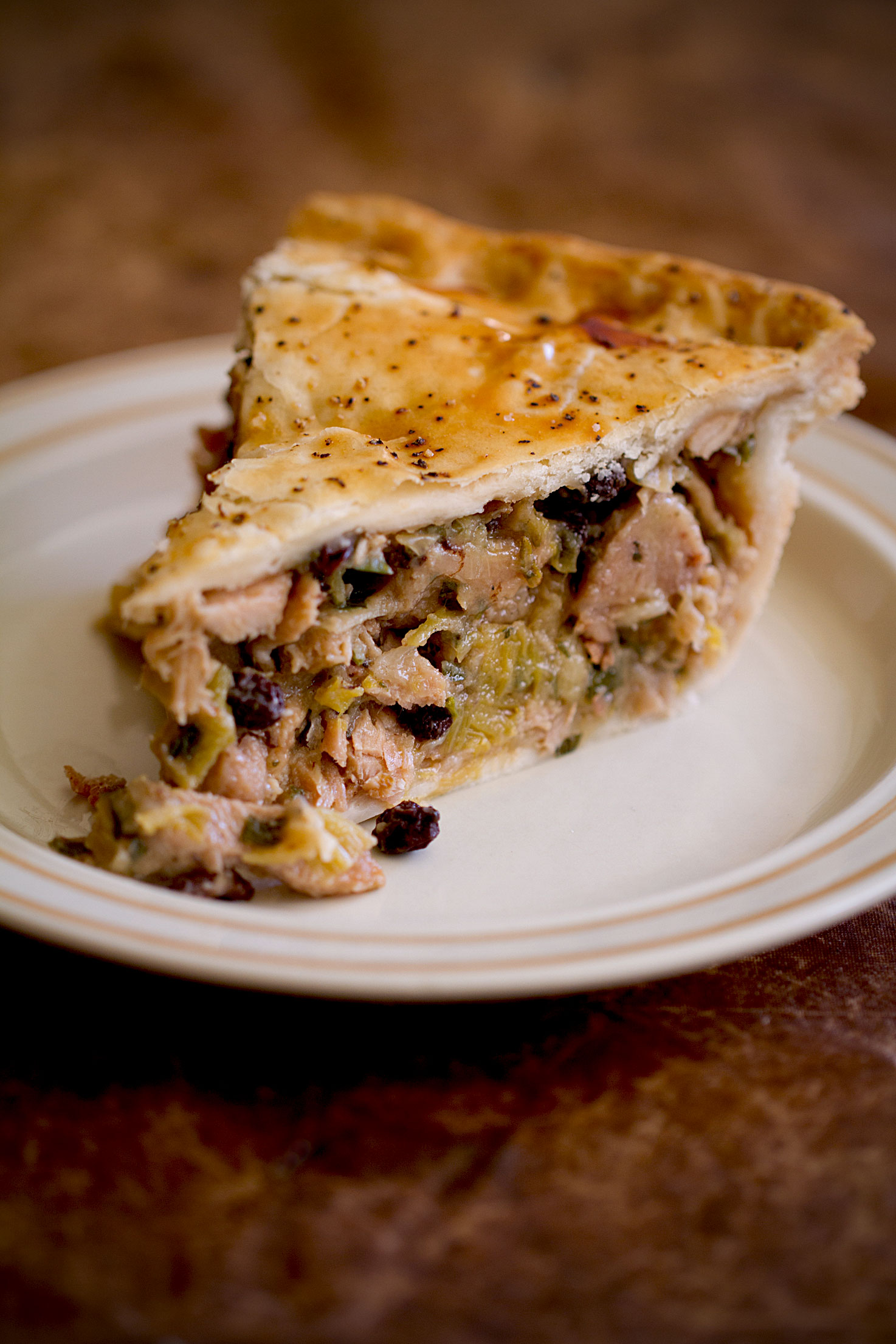 Ingredients
6 tablespoon

unsalted butter

(divided)

2 ounce

thinly sliced pancetta

(roughly chopped)

2 pound

skinless, boneless chicken thighs

water

(as needed)

kosher salt and freshly ground black pepper,

(as needed)

4

leeks

(white and pale-green parts only, washed and thinly sliced into rounds)

2 teaspoon

dried herbes de provence

¼ cup

minced fresh parsley

½ cup

dried currants

⅓ cup

all-purpose flour

(plus more for rolling)

2 cup

chicken broth

1 tablespoon

balsamic vinegar

pie dough

(enough for a 9‑inch two crust pie)

1

large egg yolk mixed with 1 teaspoon water

(for egg wash)
---
Directions
Melt 2 tablespoons butter in a large skillet set over medium-high heat. Cook pancetta, stirring often, until crisp, about 4 minutes. Transfer to a large bowl with a slotted spoon.
Raise the heat under the skillet to medium-high. Season chicken with salt and pepper and cook until lightly browned, about 3 to 4 minutes per side. Add a splash of water to skillet. Lower heat to medium again, cover and cook until chicken is cooked through about 12 minutes. Transfer to a clean plate.
Leaving all the liquid in the skillet add leeks, a pinch each salt and pepper, and cook, stirring often, until softened, about 8 minutes. Bring the heat to low, cover, and cook until leeks are very soft, about 6 minutes. Check the moisture several times. The leeks should be loose and moist but not soupy, but most of all not dry. Add a splash of water if necessary. Once cooked transfer the leeks to the large bowl with the pancetta.
Chop or shred chicken and add it to the bowl of leeks and pancetta along with herbes de Provence, parsley, and currants.
Melt remaining 4 tablespoons butter in a medium saucepan over medium-high heat. Whisk in ⅓ cup flour and cook, whisking constantly, until golden brown, about 3 minutes. Whisk in broth, adding a little at a time, until smooth. Simmer, stirring occasionally, until thickened, about 3 more minutes. Remove from heat and stir in the balsamic vinegar. Mix the sauce into chicken and leek mixture; season with salt and pepper. Let cool.
The filling can be made up to 1 day ahead. In which case over and chill.
Meanwhile, on a floured surface using a lightly floured rolling pin, roll the bottom crust 1/8 inch thick or so and large enough to cut a 12 to 13-inch circle (depending on pie pan). Transfer it to a 9 or 10-inch pie pan, letting it drape into place and over the sides evenly. Trim the edges to about ½‑inch overhang if necessary. Cover with plastic wrap and refrigerate for at least 30 minutes and up to 3 hours.
When ready to bake place a parchment covered, rimmed baking sheet on lowest rack of the oven, then preheat to 425°F. Spoon filling into prepared pie pan, packing it in well. Use the back of the spoon to smooth the top.
Roll out the second disk of dough to 12" round. Moisten the edges of the bottom crust with water and place the top crust over the filling. Trim to about 1‑inch overhang. Fold and tuck the overhanging upper crust under the overhanging bottom crust and press down all around to seal. Decoratively crimp the border using a fork or your fingers then make 5 evenly spaced 2‑inch slashes starting about 1 inch from the center and radiating toward the edge.
Just before you put the pie in the oven brush the exposed pastry with egg wash and sprinkle with freshly cracked black pepper (optional). Set the pie directly on the parchment-lined baking sheet, lower the heat to 375°F and bake at least 55 minutes or until the crust is well browned and the sauce bubbles through the slashes. Use a ring of foil to protect the edges if they're browning too quickly.
Remove from oven let cool at least 20 minutes before slicing. Serve warm or at room temperature.