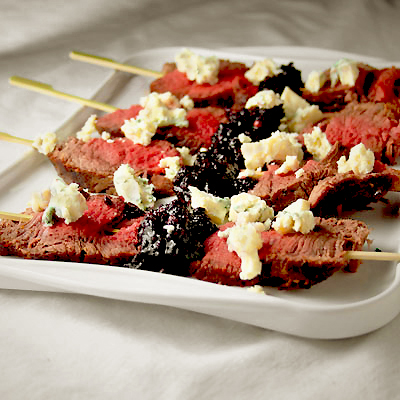 Simple beef skewers are dressed up here with a relish of port soaked cranberries, assorted peppercorns and a crumble of gorgonzola.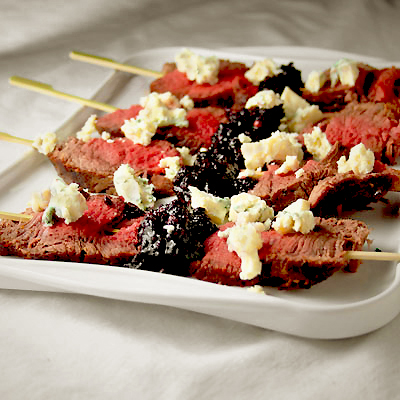 Ingredients
1½ pound

piece of beef tenderloin

kosher salt and black pepper as needed

.75 cup

dried cranberries

1½ cup

ruby port

1 tablespoon

mixed dried peppercorns

2 tablespoon

olive oil

6 ounce

gorgonzola cheese, crumbled
---
Directions
Generously salt the meat on all sides. Wrap tightly in plastic wrap and set it in the refrigerator 2 to 4 days to season. When ready to cook bring the meat to room temperature before continuing.
Meanwhile, soak the dried cranberries in the port for about 1 hour to rehydrate. Then bring the mixture to a boil. Lower the temperature to simmer and add the assorted dried peppercorns. Cook about 20 minutes until about half of the liquid is absorbed. Remove from heat and let cool somewhat.
Add the cranberry mixture to a blender and pulse until a chunky purée is achieved. You may need to adjust consistency with a bit of water. Set aside.
Preheat oven to 400 degrees F. Heat the oil in a cast iron skillet until almost smoking. Add the meat and brown it on all sides.
Transfer the meat to the oven and roast about 15 minutes until an interior temperature of 125 degrees F. is achieved for medium-rare. Remove the meat from the pan and let it rest about 7 minutes.
Slice the meat into thin slices on the diagonal against the grain. Thread one slice onto a skewer, laying each skewer across a serving platter. Give them all a good grind of black pepper. Scoop the relish onto the plate in an attractive manner for dipping. Crumble the Gorgonzola across the whole platter. Serve warm.