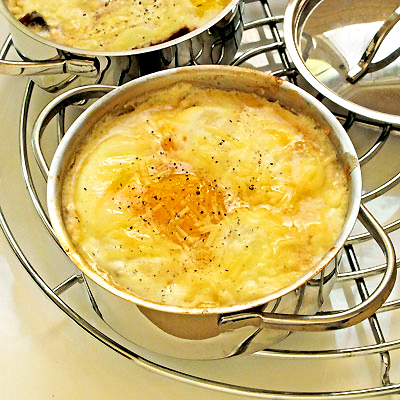 These baked eggs get their inspiration from a traditional style Irish breakfast with rashers, bangers and eggs.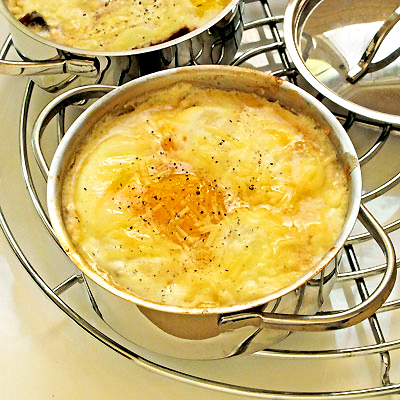 Ingredients
4 slice

extra-thick cut bacon

4

irish style bangers

¼ cup

water

4 tablespoon

heavy cream

8

large eggs (or more to taste)

salt and pepper, as needed

4 slice

toast, or more as needed

4 tablespoon

irish style cheddar cheese, grated

2 tablespoon

unsalted butter, plus more for ramekins
---
Directions
Preheat oven to 350°F with rack in middle.
Butter the bottoms and sides of four 8 to 10 oz ramekins.
In a medium sized nonstick sauté pan, cook bacon slices over moderate heat until they are crisped. Move the bacon to a paper towel lined plate to drain.
Meanwhile pour off and discard all but 1 tablespoon of the rendered bacon fat. To the sauté pan, add the rashers and cook until well browned on all sides. Add ¼‑cup water to the sauté pan, lower the heat to a simmer and cook, covered until cooked through, about 20 minutes.
Move the bangers to a cutting board and cut into ½‑inch dice. Break the bacon into bite sized pieces. Mix the meats together well. Divide the meat mixture among the four ramekins. Spoon 1 tablespoon of heavy cream into each serving. Crack 2 or 3 eggs into each ramekin and season lightly with salt and pepper. Cut the 2 tablespoons of butter into 12 small pieces and dot the top of each ramekin with 3 pieces of butter. Sprinkle with 1 tablespoon each cheddar cheese.
Put ramekins on a baking sheet and bake, rotating pan halfway through, until whites are just set but yolks are still runny, 15 to 20 minutes. Serve warm with toast.