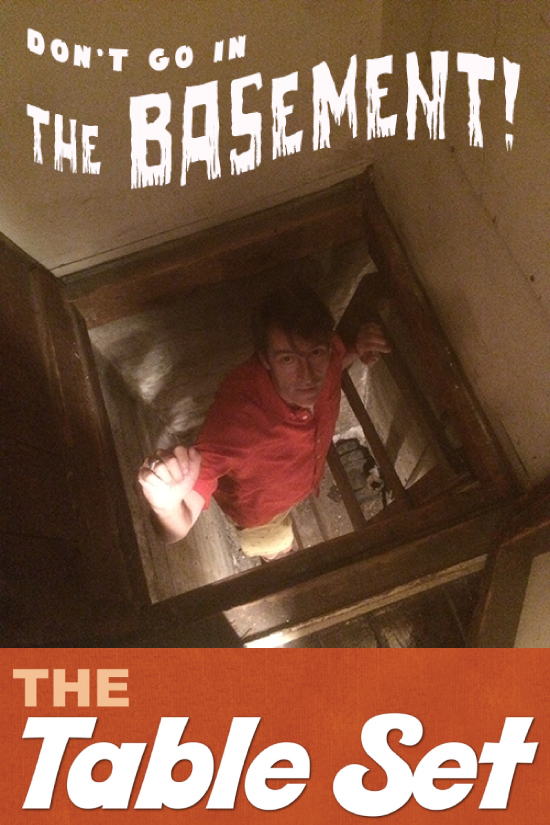 It's Halloween. Time for folks everywhere to get spooked. It's also time for a new episode of The Table Set. However, I'll admit Halloween is not my favorite holiday. It's the costume aspect of Halloween that I don't really care for. A lot of people say they love Halloween because the costumes allow them to "disappear" into a character and behave in a way that's totally different from their own personality. Which makes sense, on its face (or should I say mask). Except, that's not how I feel about costumes. Whenever I put on a costume I get the uncomfortable feeling that everybody is looking inside me. Deep inside me even. And judging me. Because the thing I believe about costumes is this: costumes reveal deep dark secrets. Perhaps they're the key to a person's psyche. Frankly, I don't really want to know too much about most people's psyches!
Costumes aren't the only thing that scares me about Halloween. So I hope you'll join Nathan, Andy and I at The Table Set podcast as we discuss our Halloween fears. Starting with pumpkin. Pumpkin lattes, pumpkin muffins, and in my case, pumpkin pies. "These ubiquitous sugar and spice monstrosities seem to be everywhere you turn on the internet and beyond. It's not such an irrational fear this time of year. Who wouldn't be scared of 800 calories of processed pumpkin gook squirted into and onto everything you can imagine?"
With this in mind, you might find it ironic that this episode starts in a pumpkin patch, literally. However, rather than simply hideout among the corn stalks and open caskets, we decide to face our fears– head-on! So I hope you'll tune in and listen to The Great Pumpkin Episode on The Table Set.
But what's a tale of Halloween fright without a visit somewhere spooky? After years of begging from Andy and Nathan, I finally decide to show them the basement in my house. I hesitated because I'm just sure it's haunted by the rats of Halloween past. However, just like the pumpkins in this episode– nothing's as scary as you think it is. GREG