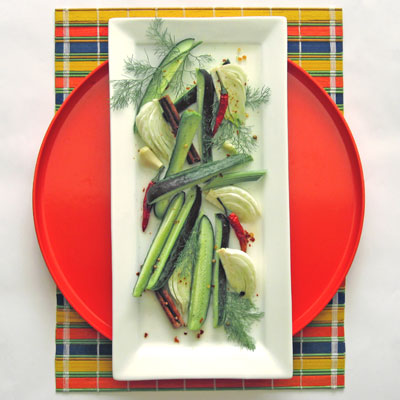 I guess it's no secret by now. I like pickled things. So I made this Turkish Pickled Cucumber and Fennel.
Remember Pickled Rhubarb? How about Pickled Shrimp? Just last week I featured a pickled fish known as Escabeche. I have a vinegary Filipino adobo coming to these pages very soon.
Well, pickled things are also a staple in Turkish cuisine. I have been reading quite a bit about Turkish cooking lately and will soon start featuring a few of my finds every once in a while.
So, with my love of pickles I was naturally very intrigued when I read that in Istanbul there are entire shops devoted to pickles. The photos I have seen are very inspiring. Shop windows filled with stunning displays of pickled things gleaming like jewels in the sunlight. It's common to see brined cucumbers, peppers, cabbage, beets and stuffed eggplant in these shops. But there can also less expected versions of the plain ol' pickle too. Things like whole ears of corn, unusual fruits and even pinecones!
In my exploration of traditional Ottoman cuisine I read that during the 18th century one of the most common appetizers (meze) was a combination of cucumber and fennel made bold with garlic and spices. The book I was reading did not mention whether this dish was pickled or not. But it seems to me to be an ideal candidate.
So I have recreated my own version of this Turkish delight! My vegetables are left in the brine overnight and no longer, because I wanted to maintain the bright crunchy texture that makes me love cucumbers so much. Which means this recipe falls somewhere between a salad and a true pickle. But the bold sour bite of vinegar is unmistakable and completely addicting!
Pickled Cucumber and Fennel
Meze serves 4 CLICK here for a printable Pickled Cucumber and Fennel
recipe
1 lb very young cucumbers or better yet, Persian cucumbers
2 very young fennel bulbs
3 thai bird or similar hot pepper
10 clv garlic cloves, peeled and left whole
1 T fennel seeds
1 T coriander seeds
1 cinnamon stick, broken into several pieces
1⁄2 t red pepper flakes (or to taste) optional
3 c white vinegar
1 c water
3 T sugar
2 T kosher salt
1 bay leaf
1 t black peppercorns
olive oil to taste
Pickled Cucumber and Fennel
Cut the cucumbers into 1/2‑inch spears. You may need to quarter or half them. Young Persian cucumbers can often be left whole. You are looking for uniformity, so use your judgment.
Trim the fennel bulbs evenly, and cut them lengthwise into quarters. Retain the fronds for garnish. Remove some of the core, keeping the layers intact. Slice these into 1/2‑inch slices.
Put the cucumbers, fennel, Thai chilis and garlic cloves into a large heat proof, low-sided bowl, tray or baking dish.
Add all the remaining ingredients to a large, non-reactive, saucepan. Bring the mixture to a boil. Remove the pan from the heat and let it cool some for about 5 minutes. Then poor the hot liquid over the cucumber fennel mixture, stirring to coat well. The liquid should nearly cover all the ingredients. If not add a bit more water.
Let the mixture cool completely. You may then cover the dish and move it into the refrigerator. They will be ready to eat in about 4 hours, but will be at their best if you wait until the next day before eating them. Serve chilled on a family style platter with a bit of the marinade and a good drizzle of fruity olive oil. Garnish with fennel fronds.
Pickled Cucumber and Fennel
SERIOUS FUN FOOD
Greg Henry
Sippity Sup