I have a simple summer meal for you. Grilled Scallops with Fennel and Fresh Herb Fusilli.
It's a great summer dinner because there is no hanging over a hot stove involved. The pasta "sauce" is no more than lemon, shallots, olive oil and herbs. It cooks by heat of hot noodle alone.
The scallops are grilled a mere 2 or 3 minutes. The fennel gets nice and charred in about 5.
That's less time than it takes to boil the pasta. Two people working in tandem can get this meal on the table in 7 minutes flat, once the prep work is done.
But just because this is a quick cook meal does not mean you can get sloppy about the details.
I am quite finicky about scallops.
Scallops should be served rare. If you cook them all the way through you are destroying their delicate nature. An overcooked scallop is a rubbery waste of money.
But just because I won't submit to an overcooked scallop does not mean I want it undercooked or improperly cooked either. In fact I like quite a bit of crunchy crusty searing on my scallops.
But how to achieve this?
Well, choosing good scallops is the first step. Many scallops today are artificially pumped up and waterlogged by a chemical called STP. If possible get scallops with out this additive. The proper term for an STP free scallop is "dry". Ask your fish monger if you are unsure. I have a whole post devoted to scallops and STP here.
Of course, sometimes you just can't be sure if your scallops are dry or not. Especially if they have been frozen. In that case it is up to you to do the drying yourself.
Start with raw, unfrozen or thoroughly thawed scallops. Lay them on a plate lined with 3 or 4 paper towels. Lay more paper towels over the top and gently press down with the palm of your hand. Quite a lot of moisture can be removed this way. You may have to repeat the process several times with fresh paper towels. Leave them wrapped in paper towels on the counter until they come to room temperature.
It's a good idea to start with scallops that are at room temperature. I never see recipes that say this. But I believe it is important, and no you won't get food poisoning & die. Provided of course you keep a semi-clean kitchen and cook them in a reasonable amount of time after coming to room temperature.
By following these two steps you should be able to achieve that golden crackly crust that helps define a wonderfully cooked scallop.
If you are going to cook your scallops in a pan here is a foolproof way to perfection. Start with a very hot pan. Add a tiny amount of canola oil. You will know when the oil is hot enough when the oil seems to ripple almost imperceptibly. Set the scallops in, and then move the pan into the oven at 450 degree F. Cook them 2 or 3 minutes, then immediately remove them from the pan. They should be quite rare at this point. But they will continue to cook if you let them rest a few minutes before serving. This is a very easy way to cook scallops. You shouldn't even have to flip them.
But today we are grilling scallops, which can be a bit trickier.
The most important thing to remember when grilling scallops is to have very clean grates on the grill before you start. Scallops stick easily. You don't want to rip them to shreds when you turn them. To help in this department make sure you oil both the scallops and
the
grill before placing them onto the grates.
The other key to excellent grilled scallops is to make sure you cook them over direct heat. This may seem counter intuitive to the delicate nature of a scallop. But we want to achieve our charred marks quickly so that the interior stays rare and succulent. They should not have to cook more than 2 or 3 minutes. Trust me, they will finish cooking on the serving plate if you can just keep your greedy paws off them for a few minutes.
I am going to say this again. Do not overcook scallops or they will be tough, and rubbery. It is far better to undercook than overcook scallops.
If the individual scallops are particularly big and thick it may best to cut them in half horizontally before cooking. You really want them about an inch thick to cook properly.
That's it. The only hard part about it is deciding what to serve them with. I have chosen the simplest of herb pastas with olive oil and lemon.
My brother Grant has done a wine pairing for us. It's a particularly interesting choice. So please click on the wine notes box and read the whole post. I might have chose a rosé, but that just shows you…I tend to live my life trough the lenses of Rosé Wine colored glasses!
Grilled Scallops with Fennel (serves 4)
24 sea scallops (about 1 1/4 pounds), tough muscles removed and at room temperature
2 1/2 tablespoons olive oil plus more for the grill
Coarse salt and freshly ground pepper
1 bulb fennel, core and trimmed, reserve the fronds for the pasta
Heat grill to medium-high. Toss the scallops with 2 tablespoons of olive oil in a small bowl until they are well coated. Slide 6 scallops onto each of 4 small skewer. Season with salt and pepper.
Cut fennel bulb in half lengthwise, cut out the core and slice crosswise into 1/4‑inch-thick slivers. Toss with remaining 1/2‑tablespoon oil, and season them with salt and pepper.
You may do this on the grill set over direct heat or on the stove top. Heat an oil slicked skillet until quite hot. Do not use too much oil. We are not frying the fennel. Then add the fennel in as close to one layer as possible. Let it sit undisturbed until it begins to brown. Then stir the pan and cook until the fennel wilts about 5 minutes.
In the meantime, with a heavy-duty clean rag lightly oil the grates of the grill and place skewers on grill over direct heat. They should sizzle. Grill on one side until the scallops develop golden brown grill marks, about 1 to 2 minutes. Then turn them once and continue cooking another minute or so longer. They just be barely cooked through and rare. Remove from grill and allow them to rest 2 or 3 minutes.
Remove scallops from skewers. Serve warm with the fennel and fusilli.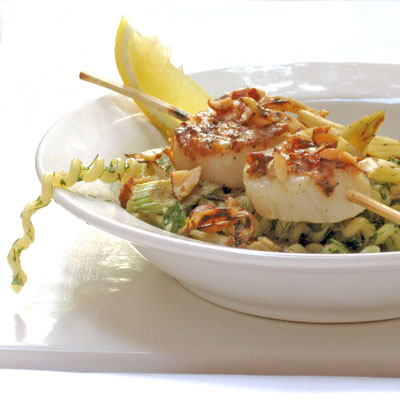 Fresh Herb Fusilli (serves 4)
1/4‑cup shallots, minced
1‑teaspoon coarse salt, plus more for pasta water and seasoning
6 tablespoons extra-virgin olive oil
1 tablespoon freshly squeezed lemon juice
1 cup loosely packed mixed fresh herbs, such as Italian parsley, tarragon, thyme, sage, very finely chopped
1/4‑cup snipped fresh fennel fronds feathery leaves only, very finely chopped
Freshly ground pepper
1‑pound fusilli or other pasta
Lemon wedges
2 tablespoons roughly chopped almonds
Fill a large pot with water and bring it to a boil over high heat. Add plenty of salt and then the pasta. Cook until the pasta is al dente according to package directions, about 7 minutes.
Meanwhile, place the shallots onto your cutting board, along with 1/2‑teaspoon salt. Using the side of a chef's knife, crush the mixture into a paste. The grit of coarse salt will assist in the process. Alternatively you may use a mortar and pestle, or even blender or mini-food processor. Though I like the more varied and rustic texture that comes from doing it by hand.
Transfer the shallot paste to a medium-sized serving bowl. And add oil and lemon juice, whisking to combine. Next add the finely chopped herbs and fennel fronds and mix well. Taste and season with additional salt and pepper as needed.
When the pasta is cooked move it to the serving bowl with tongs. It is good that a little of the water comes with the pasta. You may need to add additional pasta water, but do not let it get soupy. Just enough liquid to help coat the pasta with the herb mixture. Garnish with lemon wedges and almonds. Serve warm.
SERIOUS FUN FOOD

Greg Henry

SippitySup