Can you stand it? I mean look at these eggs.
It is not Easter and I did not dye these eggs. This case of chromatic craziness was all the hens doing. I know I have told you that the Hollywood Farmers Market has so many wonderful products and not all of them are vegetal.
So for this week's Market Matters I decided to set my sights on something different. There are several vendors of super fresh eggs at the Hollywood Farmers Market. I got this colorful collection from a couple of different stalls. I chose these eggs for their visual appeal, and I must admit I felt pretty special carrying these eggs home! But once home I was unsure what to do next.
I mean, I typically buy most of my eggs at the grocery store and do not give it much thought beyond making sure to choose free-range eggs. I believe there is a noticeable difference in taste and quality between free-range and the eggs from the poor birds that are confined to cages.
Of course these Hollywood Farmers Market eggs are certainly free-range and a whole lot more. Because the hens that laid these beauties were chosen not for their prodigious egg laying skills, nope they were chosen because they lay eggs of the highest quality. I wish I had thought to ask the type of hens that produce these eggs. But alas, I had my eyes on the prize and left my brain in the mesh bag I was carrying.
What I am trying to say is– my mind was on cooking with these eggs. And soon! But I also wanted a recipe that would let me taste these eggs in all their egginess! So I decided to use them immediately for breakfast. And I wanted to lovingly prepare these eggs and give them partners they could be proud to stand next to.
There are times in life when you want to start the day with a special meal. These eggs made me sure that this was one of those times. But unfortunately breakfast usually falls into 2 categories– A): dry, dull, tasteless and healthy, or B): crazy, stupidly, disgustingly fattening. When we say we want to start the day with something special we usually mean the latter category. But it doesn't have to be that way.
I know you love Eggs Benedict. Canadian bacon, and oozy gooey eggs, sitting on a buttery English muffin with loads of rich, fattening hollandaise sauce (filled with more eggs and butter). I could have gone that way. These eggs deserved the full treatment. But I am of that age when it certainly doesn't hurt to watch my caloric intake somewhat.
So I am here to tell you a secret. You can enjoy a breakfast as special as Eggs Benedict without all the guilt.
All it takes is a little rethinking and retooling. You can make this dish lighter and healthier in some regards, allowing you to keep the fat and flavor where it counts. Now I am not one of those people preaching about the evils of fat. In fact, don't shoot me, but I think fats are essential to healthy eating. And that includes animal fats.
That said fats do contain a high amount of calories. Therefore, calories and fats should be enjoyed in moderation. Which means I need to update your beloved Eggs Benedict, while at the same time making it modern and sophisticated. And by modern and sophisticated I mean retro-chic. To accomplish this I am turning to good old-fashioned shirred eggs. Also called coddled or baked eggs. In France they have the cute kicky name of oeufs en "cocotte".
To me retro-foods like the classic shirred eggs from the pre-Joy of Cooking era are more fun when filtered through the here and the now. So I am going to tweak this old stand-by recipe by adding all the classic elements of Eggs Benedict.
And it all starts with the sauce. Shirred Eggs with a Benedict Arnold Sauce.
I call this sauce a "Benedict Arnold" sauce because it is a good alternative to the Hollandaise traditionally used in Eggs Benedict. It contains no butter and has quite a few fewer calories. And while, it's true there are 2 egg yolks in it, you only need a small dollop per person. Besides, when it comes to fats I believe saturated fat has gotten a bad rap and should be incorporated moderately into a healthy diet. It's the poly-UN-saturated fats (trans-fats) that are the evil little buggers giving good, healthy fats a bad name. But I digress (as usual).
This recipe makes enough "Benedict Arnold" Sauce for about 8 people (3 cups). So that is 1/4 of an egg yolk each. Even the fat-phobes can't object too much to that, can they? Don't answer that…
Oh, and in case you noticed, there is twice as much sauce in this recipe as you will need for the shirred eggs, because I just know you are going to want to use this sauce again later in the week. I know how you are…
So let's make this sauce and the shirred eggs and stop yammering on about it. Okay? Okay.
Shirred Eggs with a Benedict Arnold Sauce eggs serve 4 with sauce for 8

1 c dry white wine
1/2 c rice vinegar
2 egg yolks, lightly beaten
1/3 c extra-virgin olive oil
2 T creamy dijon mustard
4 slices Canadian bacon, fully cooked
8 spears asparagus, cut into 1‑inch pieces
4 T cream, half and half or milk
8 large eggs
salt and pepper, to taste
4 slices toast, cut into strips for dipping
thyme leaves for garnish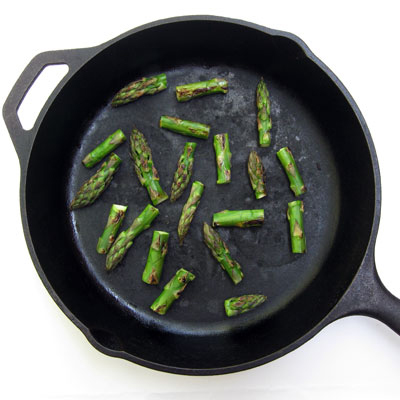 Prepare the sauce:
Combine the wine and vinegar in a small non-reactive saucepan set over medium heat. Bring this to a simmer and gently reduce it to about 1/2 cup. Transfer the reduced liquid to a double-boiler set over GENTLY simmering water. Whisk in the lightly beaten egg yolks. Continue whisking even after all the egg yolks are incorporated. You want to beat plenty of air into those eggs. As the mixture cooks, the bubbles you create will set, adding heft and volume to the sauce without butter or cream. Eventually you will get a sauce that forms very light peaks. This should take 3–5 minutes. The perfect little bubbles should be consistent, uniform and noticeable. At this point remove the sauce from the heat and slowly drizzle in the olive oil. Pour it in a steady, slow stream until all the oil is incorporated. Whisk in the mustard.
This sauce is best served immediately and warm, but it really does not suffer that much being made ahead and refrigerated.
Prepare the eggs:
Preheat oven to 425°F with rack in middle. Heat a well-seasoned cast-iron or non-stick skillet over medium-high heat. Add the Canadian bacon slices in one layer. No oil is needed. Brown well on both sides about 3–5 minutes. Remove slices to a paper towel lined plate and set aside.
Add the asparagus pieces to the same pan. No oil is needed. Cook the asparagus without stirring until browned on one side, about 3 minutes. Then shake the pan and cook an additional minute or two. Transfer the asparagus to a small plate.
Choose 8 ramekins or small baking dishes that will comfortably fit the bacon slices. About 3 to 4 inches in diameter is perfect. But please note that the dish size will affect the cooking time. Pour 1 tablespoon of the cream, half and half or milk onto the bottom of each ramekin or baking dish. Top this with the Canadian bacon, and scatter the asparagus pieces on top. Choose the nicest pieces, especially the tips) as you may not need all the asparagus depending on the size of the dish and your appetite. Repeat with all the dishes.
Carefully crack 2 eggs into each dish, trying not to break the yolks. Season with salt and pepper. Add 1 teaspoon butter to each dish. Place the dishes onto the middle rack of the oven and bake until whites are set and opaque but yolks are still slightly wobbly, 7 to 10 minutes. Check them often as dish size can affect the cooking times. Remove them from the oven and allow them to rest about 3 minutes. They will continue to cook during resting so remove them just before they look perfectly cooked to you. But runny yolks are much better in this instance.
Serve the eggs with a dollop of the mustard sauce garnished with some thyme leaves. Don't forget the toast for dipping into the creamy eggs and the sauce.
SERIOUS FUN FOOD
Greg Henry
SippitySup