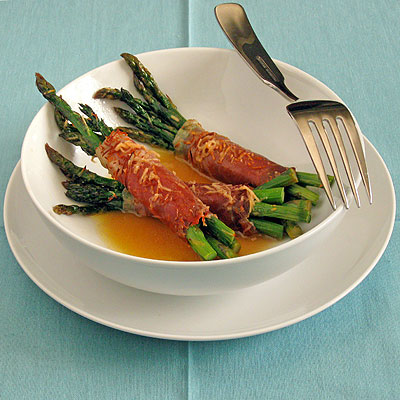 Asparagus in Proscuitto
I am still cooking from my mother's recipe collection. It started as a Mother's Day Tribute to my own mother who passed away in 1993. It was a way to say Thank You for the love of food and cooking that she instilled in all three of her children. She might not have planned it this way, but her enthusiasm for cooking and entertaining turned out to be contagious. But it's funny because I never really knew I had been infected with the cooking bug until after my mother passed away. She died young and I was still finding my own adult direction in this world, so she'll never really know the great gift she gave to me.
Asparagus in Proscuitto
And this next recipe really is a gift too. A great gift in fact. Of all her recipes that I have brought to you, this is my favorite. It's the one closest to a recipe I would have written myself. And despite all the childhood favorites and comfort foods I have paraded across this blog in the past week, this is the recipe that most closely aligns with my adult tastes and sensibilities. I am so glad I started this project because this recipe is bound to become a dinner party staple at my house. It's everything I like in food. Great texture, bold flavors, and enough lusciousness to hold it all together.
I am sure my mother intended this recipe as a side dish. Because I recall quite a few bacon wrapped veggies from my youth. It must have been some tick used by 1970s moms used to get kids to eat their veggies! But I imagine this was my mom's adult version (using prosciutto) of a childhood obsession of mine, Bacon Wrapped Green Beans. But that's another story.
Now my mom was a great cook, and her version of this recipe was (nearly) perfect. But I can hold my own in the kitchen too. So I adapted this asparagus recipe oh so slightly so that it better suited the way I cook and the way I entertain at home. I decided to transform it from side dish to first course. I got the idea from a note my mother wrote into this recipe. It said: "The super flavorful asparagus stock should be saved for another day or used in the soup".
So I thought to myself, "Why save it for another day? Why not use it with the roasted asparagus?"
So when I made this recipe that's just what I did. I served it in a bowl with plenty of the "flavorful asparagus stock" and a hunk of crusty bread. Not so much broth that I would call it a soup, in fact, I did not even provide a spoon. I figure it's the bread's job to transport that broth to my mouth. I also strained the broth for a cleaner presentation, but there is no reason to bother if you prefer a more rustic bowl of asparagus love.
Asparagus in Proscuitto serves 4 CLICK here for a printable recipe
24 asparagus spears, thin to medium thickness
2 c chicken stock
4 pieces bel paese cheese cut into 1/4″ batons about 2″ long. Fontina is a good substitute
4 slices prosciutto
4 dabs butter
1⁄2 c dry white wine
coarse salt and pepper to taste
2 T Parmesan cheese, grated
Preheat oven to 400 degrees F. Trim the woody ends off the asparagus. There is no need to peel them unless they are quite thick. Heat a saucepan over medium-high heat adds chicken stock bringing it to a simmer. Then add the asparagus spears in as close to a single layer as possible. Work in batches if necessary. Poach the asparagus until barely cooked (even a little undercooked). About 3 minutes. Transfer them to a clean work surface to cool, again in as close to one layer as possible. While they cool reduce the asparagus scented chicken broth to about 1 cup. Turn off the heat and set it aside.
Collect 6 stalks asparagus in a neat bundle. Push one baton of bel paese cheese into the center of that bundle. Wrap 1 piece of prosciutto around each bundle as tightly as possible with out breaking the prosciutto. Set the bundle into a baking dish, seam side down. Repeat with remaining asparagus and bel paese cheese.
Place a dab of butter on the tips of the asparagus of each bundle. Add white wine and enough of the remaining asparagus scented chicken broth to fill the bottom of the baking dish by about 1/2‑inch. Season with salt and pepper and sprinkle the Parmesan cheese on top.
Move the dish to the preheated oven and roast until browned with a few crispy edges. About 25 minutes. Serve in bowls with plenty of the delicious broth and crusty bread as a first course, or alternatively as a side dish with a drizzle of the broth.
SERIOUS FUN FOOD
Greg Henry
SippitySup
Asparagus in Proscuitto
Asparagus in Proscuitto