I love the ambience of a good old-fashioned chophouse. Red leather booths, dark lighting, questionable martinis, and oh yeah, steak.
Usually damn good steak too. That's because a good chophouse makes no apologies for its red-meat-centric position. So there is no need to hide behind any of the foodie pretensions of the moment.
Chophouses do meat. Several cuts, all of them grilled.
Chophouses were never simply restaurants. In another time, on another continent, the original English chophouses could easily be called the16th century gastro-pubs (to borrow an au currant foodie phrase) of their time.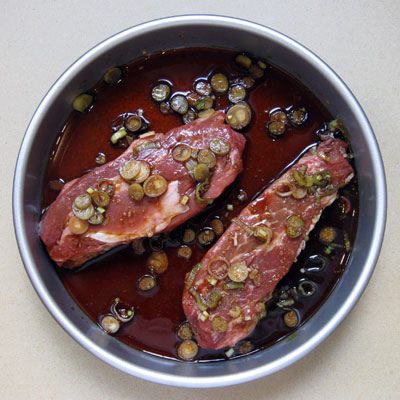 The chophouse is actually an esteemed British institution dating back to the origins of modern commerce. Chophouses have long been meeting places where business people dined and conducted their affairs over hearty plates of traditionally cooked meats washed down with the alcoholic beverages of choice.
Not much has changed then.
Still, in America they are more associated with a "rat pack" mentality of another generation. But I live in Los Angeles. Maybe my connection to showbiz has colored and romanticized my associations.
Snap your fingers to a jazz beat, bee-bop-doo-wop, and my mind goes straight to the phrase strip steak. It seems nowhere else in the world besides a chophouse is that venerable cut of meat given
such a no-nonsense name.
Because the strip steak is actually one of the highest quality beef steaks on the market. In the United States and Canada it is also known as strip loin, shell steak, Delmonico, Kansas City or New York strip steak.
In the United Kingdom, Australia and New Zealand, the same steak is traditionally called a Porterhouse.
Cut from the strip loin part of the sirloin, the strip steak consists of a muscle that does little work, and so it is particularly tender, though not as tender as the nearby rib eye or tenderloin (fat content of the strip is somewhere between these two cuts, allowing for a flavor profile to match). Unlike the nearby tenderloin, the strip loin is a very flavorful cut. It is also a more sizable muscle, allowing it to be cut into the larger portions favored by many chophouse variety steak lovers.
When this cut is still attached to the bone, and with a bit of the tenderloin also included, then the strip steak becomes a T‑bone steak or a North American Porterhouse steak.
But once you take this steak out of the butcher shop and into a chophouse, all you need to do is lower the lights, shake up some gin, spread out in a booth, groove with a tenor sax, a tinkling piano and a bad ass bass and this fine cut of meat is simply called a strip steak.
But you don't have to enjoy a strip steak strictly at a chophouse. Nope, you can easily make this baby at home.
I sometimes marinate this steak to round out its flavor, and make it a perfect companion to a dry gin martini. It's a sophisticated way to entertain friends.
But today I am going to accentuate the rustic charms of this cut of meat. I have a Marinated Strip Steak with Grilled Scallions & Feta. A few dry roasted potatoes and a big pat of butter is all this needs to take the chophouse to your own back patio. That way you can dine under the stars. And I don't mean Frank, Dino and Sammy.
Marinated Strip Steak with Grilled Scallions & Feta SERVES 2
2 boneless strip steaks (10 oz each)
2 bn scallions
1/2 c worcestershire sauce
1/4 c soy sauce
1 T prepared horseradish
1/4 t fresh ground black pepper
1 pn cayenne pepper
1 lemon, zest only
coarse salt
feta cheese (to taste)
Place steaks in a large, non-reactive shallow sided pan, just large enough to hold them comfortably.
Slice 1 bunch of scallions into small rounds (white and light green parts only). Combine these with the Worcestershire, soy, horseradish, black pepper, cayenne and lemon zest in a small bowl; whisk to combine.
Pour the marinade over the steaks and cover with plastic wrap. Let the steaks sit about 1 hour at room temperature, turning them once.
Heat the grill. Remove the steaks from the marinade, letting the excess drip off and remove any of the clinging scallion slices. Generously season both sides with some coarse salt.
Grill until they are browned on the outside. For medium-rare cook about 5–6 minutes per side. Transfer the grilled steaks to a large serving platter, covering them loosely with foil. Make sure you allow the steam to escape, so that they do not overcook while resting about 10 minutes.
In the meantime, grill the second bunch of scallions left whole, about 2 minutes per side, until well marked and softened. Serve them with the steaks and a crumbling of the feta cheese.
SERIOUS FUN FOOD
Greg Henry
SippitySup