Fig & Olive comes to a great corner of Melrose Place because Republic is no more (I coulda told ya that was in the cards).
Still, when I heard the not-so-shocking news that Republic went Chapter 11 a few years back I thought to myself, "but what will they ever do what that cavernous space?"
In theory, it's the perfect corner for a night club/restaurant: Melrose Place at La Cienega. That corner's got the benefit of a prime West Hollywood location surrounded by boutiques like Marc Jacobs, Carolina Herrera, Colette and Vivienne Westwood. As a bonus, there's the name recognition from 2 (count 'em two) TV series of the same name.
That kind of panache is going to attract a certain type of clientele. It's going to appeal to industry folk, sure… the terribly glamorous are going to want to be seen there, duh. But a corner like that is also going to attract out-of-towners looking for a peek at tinsel town and all its "authenticity". In other words, it's going to need a door policy that's a bit more liberal than that of Republic.
In my opinion, for a restaurant to succeed here this space needs more than great food, great fashion and great architecture. It needs a marketing plan.
Enter Fig & Olive. It's already a proven market success with 4 locations in New York (3 in the city and 1 in Westchester). It's a very culinarily accessible Mediterranean themed eatery. Each Fig & Olive location is set up for full-scale dining or small plates at the tasting bar headed at all its locations by executive chef Pascal Lorange.
The flavors focus on the coastal cuisines of Southern France, Italy, and Spain with olive oil as a main ingredient in every course. Including dessert. In Los Angeles, pastry chef Andrew LeStourgeon will be launching a dessert menu featuring olive oil exclusively. You see at Fig & Olive, olive oil replaces butter even in the most classic renditions of pastry.
Because olive oil is that extra special ingredient at Fig & Olive and part of its marketing success. Each location features a store where olive oil and other olive-themed items can be purchased. This is part of the marketing strategy I referred to and may very well be the key to this eatery's long-term success. Whether it's the terribly chic consumers used to spending their disposable income in the upscale boutiques surrounding the restaurant, or the tourists in town for the weekend looking for a sophisticated souvenir, I predict a great many of the diners will be taking a bit of the "value added" merchandise home with them. Pure genius!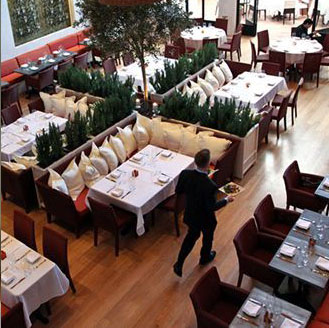 But still it's a restaurant first, and I'm a food blogger. So let's break it down.
If you remember Republic you are probably aware of its dramatic two-story interior. Perfectly set up for people watching, or cruising… which ever you prefer to call it. With a total of 8,000 square feet, it can seat 300 diners. There are the two marble bars that greet you at the front door– one for wine, one for artesian cocktails. This is where small plates and small talk are the order of the day, and maybe some of that cruising I mentioned.
Situated across from the bars are a scattering of lounge tables with cushy wicker chairs and sofas, just in case that cruising gets serious.
The main dining room continues the rustic open-air feeling with more woven furniture surrounded by rosemary plants and centered with, you guessed it, an indoor olive tree. Beyond that, there is an enclosed terrace for actual al fresco dining.
But I mentioned this is a two-story space. Upstairs it's much clubbier in feeling. From your perch, it's possible to look down on the main room narrowing in on whom you might like to meet, err I mean what you might like to eat should you be lucky enough to snare a table!
I went during their 3 nights of invitation-only parties. It was a mad scene. And I mean that in a very good way. It was a heck of a lot of fun. Moët Champagne, martinis and tons of passed tidbits from the kitchen.
Still, I'm not going to talk too much about the food at this time. I don't think it would be fair to judge the fare from what I tasted amid the crush of nightlife elite pouncing on the passed trays of prosciutto crostini and adorable little pots of pot de crème.
I am interested in the actual food though, and I am going to keep this place on my radar. Because I have heard that each meal will start with a tasting of three different olive oils. Which at Fig & Olive seems like the perfect place to start. Maybe they'll invite me back…
SERIOUS FUN FOOD
Greg Henry
Sippity Sup