I've been waiting for soup weather. Well, I should say I've been waiting for Caramelized Sweet Onion Soup weather. In Los Angeles, our on-again-off-again heat is quite unpredictable. September usually boasts some of the warmest weather of the year. And it is sometimes paired with a rare bout of humidity. Moreover, September is also when we start flirting with the true blue skies and chilly evenings that define autumn in Southern California. It's this last weather pattern that I've been hoping to see sooner rather than later. That's because sweet onion season is coming to a close, and I wanted one last sweet onion hurrah.
Wine Pairing
Frank Family Chardonnay 2014
Greg's Caramelized Sweet Onion Soup – creamy, rich, layered – needs a wine that can stand up to it. Generally speaking, you can go two ways in choosing a wine pairing: you can either mirror the flavors and textures in the dish or contrast them. This time, I felt a strong sense of simpatico was called for. The Frank […]
Price $30-$35
Pairs well with roast chicken, shellfish, butter/cream, mushrooms, onions and garlic
French Onion Soup is one of my favorite cool weather meals. However, today's soup is not that soup. This soup, just like our weather, is a less predictable onion soup. It starts with caramelized onions just like its famous French cousin. That's where the similarity ends. My Caramelized Sweet Onion Soup is creamy rather than cheesy. It's lighter in another sense as well. This soup isn't made with beef stock, it's made with chicken stock (or, just as acceptably, with vegetable stock).
The biggest difference, however, is that my soup is a sweet onion soup. Made from sweet Walla Walla onions.
I've often been impressed by the sweetness of sweet onions. I swear I could eat them out of hand like an apple. Especially the extra crunchy Maui onions grown on volcanic slopes in Hawaii. What makes them (or Vidalia or Walla Walla onions) so sweet? I've heard that the sugar content of these sweet onions is about the same as the more pungent yellow onions. Besides, technically speaking, there's no such thing as a "sweet" onion – all cultivated onions are of the same genus and species.
How is this possible? I've tasted the sweet difference for myself. Well, like the grapes in wine, the answer lies in terroir. Sweet onions are planted in low-sulfur volcanic soil. This type of soil gives sweet onions about half as much of the biting acid that causes the teary eyes associated with yellow onions. So it's not the sugar that makes sweet onions sweet, it's the lack of sulfur. Also, sweet onions are "fresh" onions. They're sometimes referred to as "short day" onions because they're planted in the fall and harvested in spring or early summer. Then they're given a very short "cure" period, resulting in a high water content, keeping them fresh, crisp, and sweet. GREG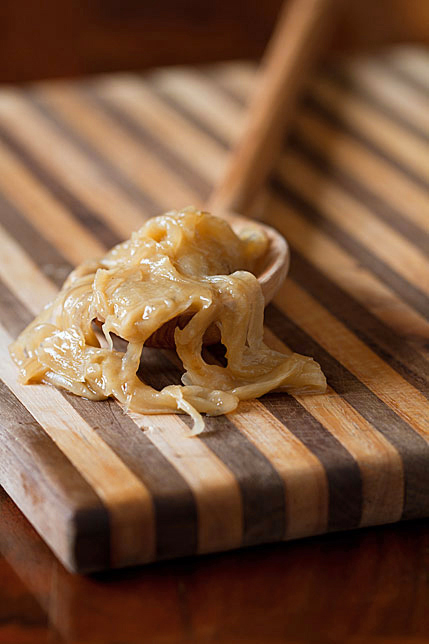 Save
Save
Save
Save
Save
Save
Save
Save
Save
Save
Save
Save
Save
Save
Save
Save
Save
Save
Save
Save
Save
Save
Save
Save
Save
Save
Save
Save
Save
Save
Save
Save
Save