Peach upside down cake? I was recently asked to make a birthday cake and bring it to a friend's party. Of course, this is a great honor. Of course, I wanted to do a bang-up job. But I did think to myself, have you ever seen SippitySup? Cakes are not my thing! I am not saying I can't make a cake when push comes to shove, but it's not what I'd would call a strong point.
Though I did make a simple and rustic strawberry cake a few months back, and an even simpler Italian-style corn meal cake with fresh berries even more recently. I was rather proud of these cakes. These are Sups! kind of cakes. Flavorful without being too sweet or too fancy. Layers and ganache are beautiful and, of course, delicious – but they probably make a heck of a mess in the kitchen. Nope, I am not into messes!
I get stress dreams just thinking about the kind of work that must go into some of the comely confectionary creations I have seen cascading across the pages of so many of the talented geniuses in this big, wide blog world.
Peach Upside Down Cake
I should know too, I spent a little while cruising virtual cakes, looking for inspiration for this birthday cake.
As I was not too sure what I wanted in this cake, I decided to start with what I didn't want in this cake.
I did not want frosting, or layers, or decoration. However, the cake needed to be beautiful (of course).
This is a birthday cake. The impact is important. Besides I am a firm believer that food can be beautiful with out being all gussied up. Whenever I see cookies with ribbons tied around them, I immediately wonder what the cook is hiding! Then again I can be an insensitive and cynical SOB. Maybe that ribbon is there for a purpose far beyond my limited understanding of beauty – maybe (but probably not).
Oops! That's Grumpy Greg speaking as I digress.
I also did not want this cake to star all the usual suspects. And by that, I mean usual suspect – chocolate. I did not want this cake to be chocolate. Sure chocolate cakes can be good, even great and occasionally transcendent. But mostly they are dry and dull.
Feel free to prove me wrong on this point. Send handmade samples of your best chocolaty cakes, tortes and tarts on over to my house and I'll give them a try. After all, I am 20 pounds underweight from my weeks with a wired shut jawbone. I am looking for a fun way to put the weight back on.
But look! Again I have strayed from the path.
Okay, I certainly did not want this cake to be any of the things I just
mentioned. But mostly I did not want this cake to be a big fat bomb! I wanted a cake I knew I could pull off. Baker, I am not.
Fortunately, it did not take all that much clicking through the blogosphere to arrive at my final destination. Because I soon found what I was looking for at My Kitchen Snippets. The minute I saw Gertrude's bit of culinary perfection. I knew I had found my cake (and by "my cake" of course I mean her cake). It's a Peach Upside Down Cake.
If you know anything about SippitySup then you probably know I love creative takes on classics. I also love to eat seasonally. Peaches are at their peak in summer. In Los Angeles, we are having a particularly good peach season. Besides, one look at Gertrude's cake and I could see that it had all the rustic beauty of real food with real integrity. No trendy ingredients, no food dye, no ribbons… this cake is all cake.
As confident as I felt that this was the right cake for the right occasion. I did feel the need to practice making it. That's right. I made this cake twice. Once exactly as written, and then a second time when I tripled the recipe. That's right, I needed a 15-inch round cake that would feed 30 guests. Take peek at the pic.
It sounds a bit scary, doesn't it? But you know what? I pulled it off as smoothly as I could have ever hoped. I give all the credit to Gertrude. But I gotta say this is also another successful case of Sup! knowing exactly what he didn't want! Grumpy Greg be damned…
This cake was tasty and moist. It was attractive with out silly adornments, and the best part… not a single soul at that party grumbled at the fact that there was nary a chocolate chip in sight!
Peach Upside Down Cake serves 6
3 fresh peaches
4 tbsp butter (or melting)
3 tbsp brown sugar
4 oz unsalted butter, room temperature (for the cake)
3/4‑cup sugar
2 large eggs, room temperature
1/2‑teaspoon vanilla
1 1/2 cups flour
1 1/2 teaspoons baking powder
1/4‑teaspoon salt
2 tbsp of buttermilk (or whole milk in a pinch)
1 tsp of orange zest
Whipped cream on the side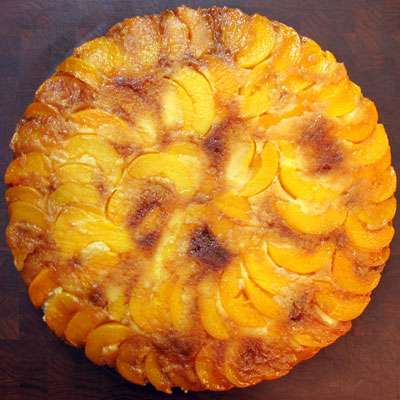 Grease an 8‑inch cake pan, then line it with an 8‑inch parchment round, also greased.
Peel the peaches. This can be accomplished easily if you blanch the peaches first. This will loosen their skin and the task is not nearly as messy as it would be with a knife.
Prepare an ice bath in a large bowl large enough for all the peaches. With a paring knife, lightly score an X in the bottom of each peach. Bring a large pot of water to a boil. Carefully drop the peaches into the water for 1 to 2 minutes. Using a slotted spoon, move the peaches into to an ice-water bath to stop the cooking. Once the peaches have cooled, the skin should peel off easily. Slice each peach in half, remove its pit and cut each half into appropriately sized wedges.
Prepare the topping. Melt the 4 tbsp butter and brown sugar. Pour this mixture, while still warm, onto the bottom of the lined cake pan. Arrange the peach slices in an attractive circular pattern all around the bottom of the pan. Set it aside while you prepare the batter.
Pre-heat the oven to 350 degrees F. Cream 4 oz butter and sugar together until light and creamy. Beat in the egg one at a time until well combined.
Add in vanilla and orange zest. Sift flour, baking powder and salt together. Slow down the mixer and slowly add in the flour alternately with the 2 tbsp of milk. Mix until combined.
Spread the batter over the peaches and bake the cake for 50 minutes or until golden brown, and a knife inserted in the center comes out clean. Let the cake cool in the pan for 10 minutes. If it has a particularly large hump in the center cut this off with a serrated knife. You will get a better presentation if the cake sits flat and solid.
Set a serving plate over the top of the cake pan. Using kitchen mitts because the pan will still be quite warm, invert the caked quickly. Let it sit undisturbed until you are confident it has removed itself from the bottom of the pan. Remove the pan and carefully peel away the parchment paper. You may need to slightly adjust the peaches to make the presentation as pretty as possible. Serve warm with barely sweetened whipped cream on the side.
SERIOUS FUN FOOD
Greg Henry
SippitySup
Peach Upside Down Cake
Save
Save
Save