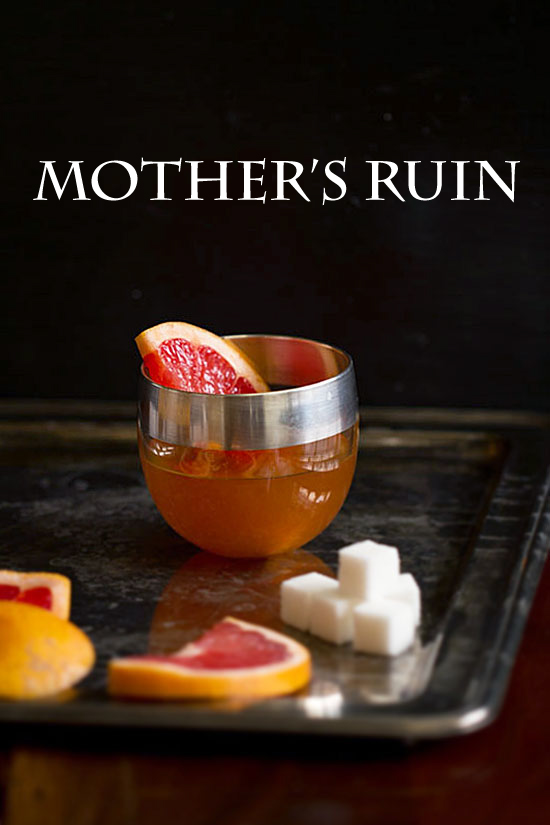 You'd think a punch called Mother's Ruin had no place on my holiday sideboard. Well that depends on your mother and how thick her patience is (especially during the holidays). To my ears, Mother's Ruin doesn't have the antagonistic tone you might expect. In fact it has a strangely maternal ring to it. My mom was fond of certain sayings as a type of shorthand. It's no great shakes, and It's better than a kick in the pants were two of her more baffling remarks. When Christmas rolls around I think of her smiling wryly and proclaiming dryly, You kids are going to be the ruin of me.
My mother could be a bundle of opposing forces. Especially when it came to the holidays. On one hand she'd take endless photos of us in our Christmas pajamas and always made sure there was a giant naval orange in the toe of our Christmas stockings. But she could also be a bit of a holiday Grinch. In fact she'd boldly pronounce each December 26th that we'd probably just skip Christmas next year. I guess the ratcheting energies of three small children can wear on a parent as December progresses. Still, on the very same day she banned the Ghost of Christmas Yet to Come we'd find her smiling to herself, carefully wrapping each precious Christmas ornament in tissue before tucking it gently into a cardboard box. Proving what we already knew – there would be no skipping Christmas at our house next year.
Mother's Ruin
When I saw this gin punch recipe for Mother's Ruin from Phil Ward of Death & Co my mother's impatience during the holidays was the first thing that popped into my mind. In the most traditional sense Mother's Ruin is the perfect Christmas cocktail. It's got a festive color and is made with Christmas-spiced, orange-cinnamon-tea-infused vermouth – it smells just like the holiday. As I mentioned, for personal reasons even the name says Christmas to me, though technically speaking the name Mother's Ruin is an old British slang term for gin. My mother's ruin and her own slang terms have become a part of who I am today so it was easy for me to choose this as my holiday cocktail.
It's funny that a cocktail with a silly name could bring up all this nostalgia in me – but it has. So I'll tell you another story set in a time when I was old enough (yet immature enough) to decide I'd had quite enough of my mother's Christmases. This led to a typical teenage row where she said to me, with a sort of pleading tone her voice, that girls grow into young ladies right before their mother's eyes and that is hard enough, but little boys grow into men stealthily in their sleep, and leave their mothers wondering how it happened. That's when I understood just what a Mother's Ruin was all about. GREG